The Iraqi stadium boom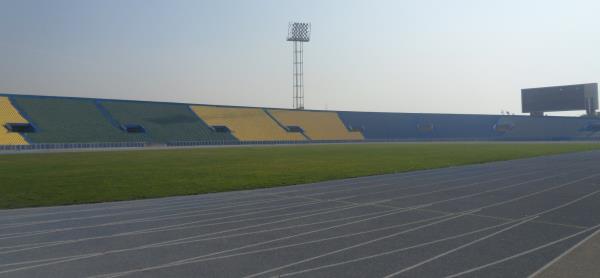 While it is not uncommon for shiny new stadiums to get built in places where you would not expect them, there is something even more special going on in Iraq right now: an actual stadium boom.
The Arab country, still recovering from the war, has decided to put some of its oil money in a massive overhaul of its stadiums, resulting in a total of seven new stadiums under construction right now and many more planned. We will therefore take you on a journey through the country to see what is going on.
We start our trip in the southern city of Basra, Iraq's second largest city with an estimated population of about two million inhabitants.
Over there, a massive new sports complex, Basra Sports City, is on the brink of being completed. The centerpiece is a stadium with a capacity of 65,000 seats, which is complemented with a small stadium with about 10,000 places, training facilities, and a few luxury hotels.
The complex was meant to serve as the venue for the 2013 Gulf Cup of Nations, but it was later decided to give Iraq a little more time to prepare. As a result the tournament was moved to Bahrein, and Basra gets to host the next version.
The project has come at the significant cost of $500 million, all financed by Iraqi's Ministry of Youth and Sports.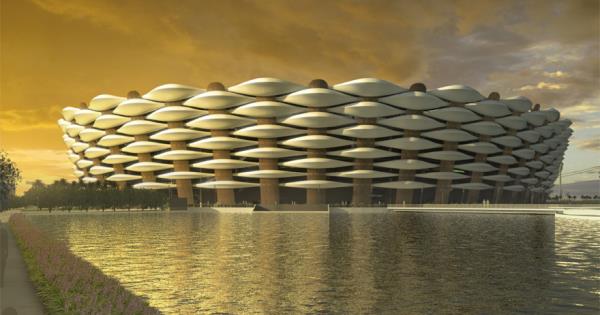 The complex was scheduled to be completed right now in March 2013, but it will probably take a few more months for the last details to be finished.
This is what the almost-completed stadium looks like: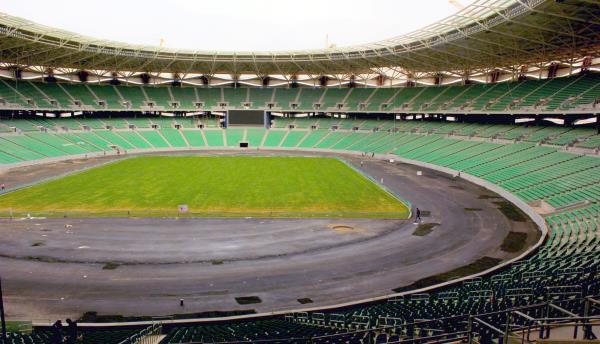 And the smaller stadium next door has already been completed: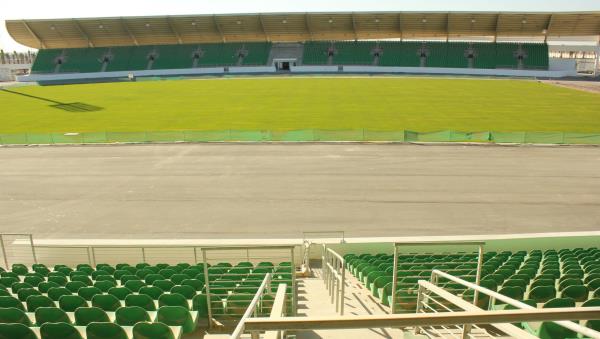 These two stadiums, however, are not the only new stadiums that are getting built in Basra at the moment. There is one more: a 30,000 all-seater for Iraqi Premier League club Alminaa SC.
Construction of this new stadium started in 2012 and is expected to come at a cost of just under US$ 100 million.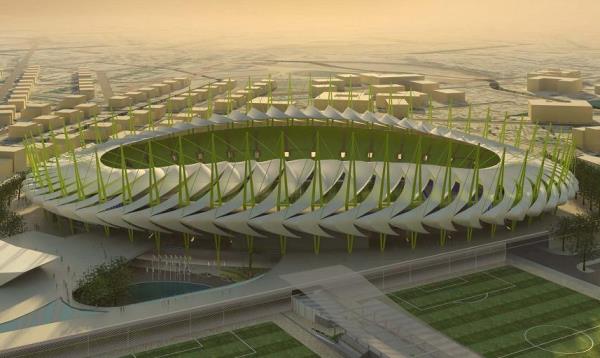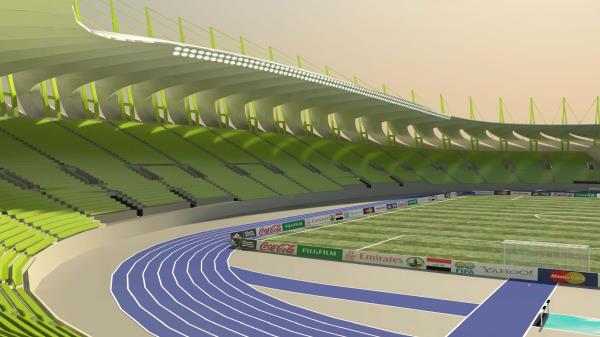 The new Al Minaa Stadium is scheduled to get completed in the end of 2013. It looked like this in the middle of 2012: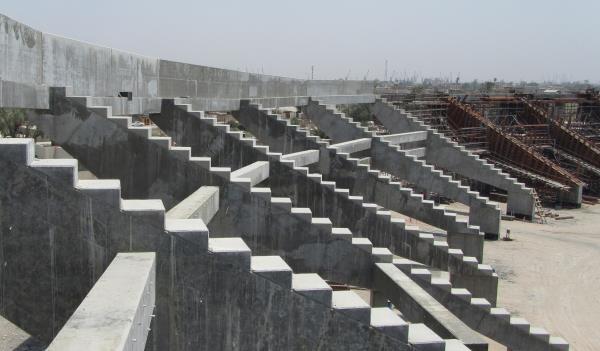 Up north, but still south of Baghdad, there are a few more stadiums that are in a similar stage of construction. First of all, there is the Holy Al Najaf Stadium in the city of Najaf.
Holy Al Najaf Stadium is another stadium with a planned capacity of 30,000 seats, has a similar price tag as Al Minaa Stadium, and has been designed by the same architecture firm that also designed both stadiums in Basra: 360 Architecture.
Whereas both Basra stadiums are equipped with a running track, a feature still very common in new stadiums in developing countries, Najaf's new stadium will come without one.
In fact, the stadium had originally been planned to also hold a track, but after criticism following both Basra stadiums it was decided to go for a version without track.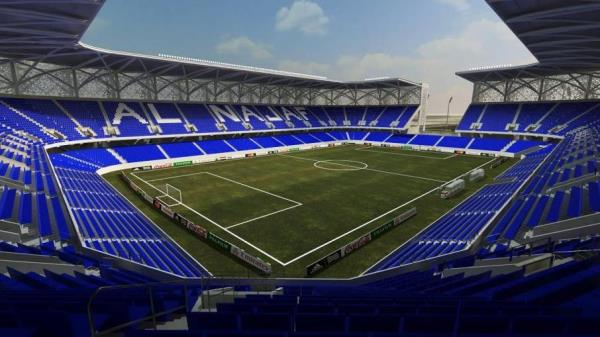 The exterior of the stadium is of particular beauty, and is inspired by the city's famous Imām Alī Mosque.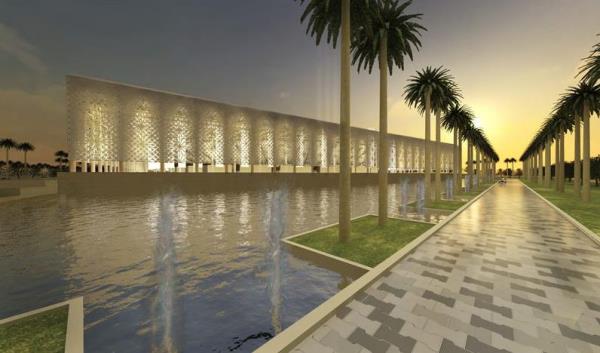 The stadium is expected to be completed early 2014, and will serve as the home of Premier League club Najaf FC.
Then there is a new stadium in the city of Karbala, again with a capacity of about 30,000, and again without running track, though it is not exactly clear whether the below rendering has been replaced by a more current one in the meantime.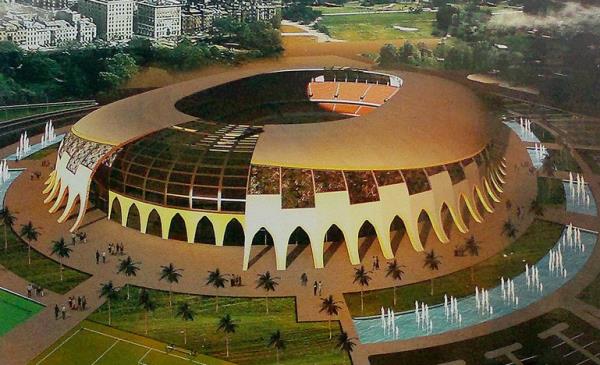 Construction is well under way and expected to be completed in 2014. Karbala has a Premier League team as well.
Not far from Karbala lies the province of Babil, home to what is left of the ancient city of Babylon and the largest city Hillah. Here, works have just started on a new stadium that will get built with the help of Spanish architects and contractors.
This new 30,000 all-seater is going to look like this: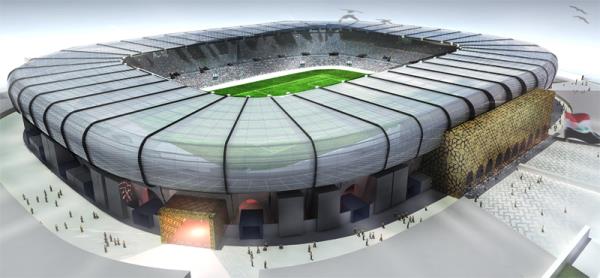 One thing all these stadiums have in common that they look like stadiums that could have gotten built in Europe. Instead of going the Chinese way and built an uncovered oval stadium with running track, the Iraqi stadiums are almost all completely covered and various come without athletics track.
We continue our journey to Baghdad as it would not be a proper stadium boom without the capital participating.
Over there, works have just started on a new stadium in the Al Sadr area of the city. Again, capacity will be around 30,000, and again, the design seems to tick all boxes of what a modern stadium needs.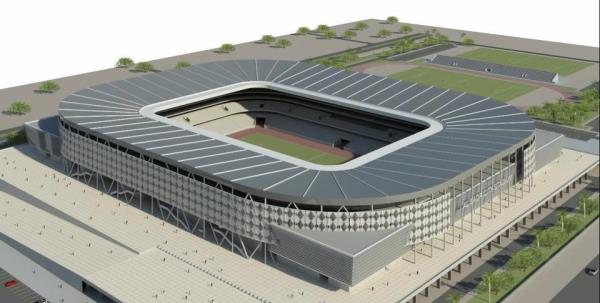 If all well, Al Sadr Stadium should be completed by 2015.
There are various more stadiums planned at the moment: another 30,000-seater in the Russafa area of Baghdad; a few other smaller ones in and around the city; four 30,000-seaters in Nasiriyah, Al Anbar, Diwaniyah, and Diyali; and a 20,000-seater in Al Kut. There are furthermore more tentative plans for new stadiums in the north of Iraq in the cities of Mosul and Erbil.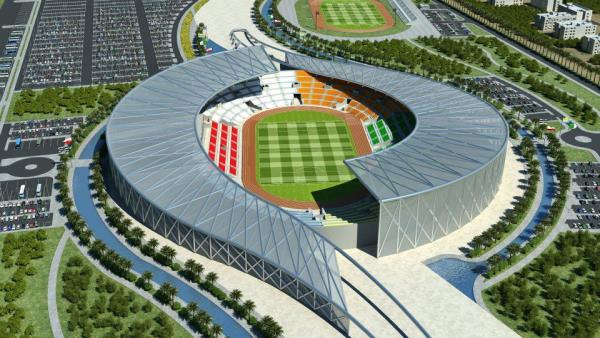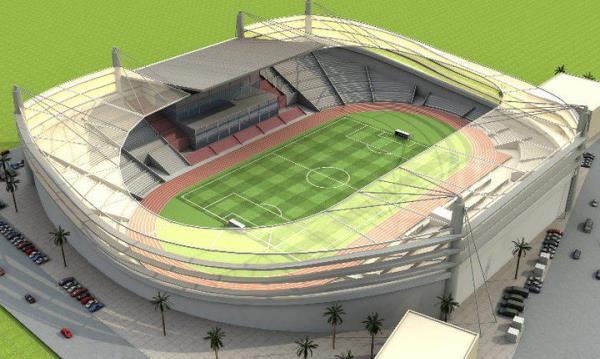 Iraq's stadium boom goes further than just the top though as there is also much development on a local level, where new facilities are getting built, often with artificial pitches.
But the big flagship project has to become Baghdad's Al Tajeeat Olympic Stadium. This project goes back a while, but now finally seems to gain traction.
First plans were made when normality returned to the country in 2009. On year later, in 2010, plans were presented for a stadium with a capacity of 100,000 spectators and a design competition was announced.
Then the Ministry of Sport decided to build three stadiums instead of one in Baghdad (we have mentioned the other two already), which meant that the proposed capacity of the Olympic Stadium was scaled back to about 60,000 seats.
The exact status of the project is not known at the moment, nor is the final design that has been chosen. Some preliminary works have been performed on the site though, which means that there might be something in the air.
This is one of the proposals that have made the rounds: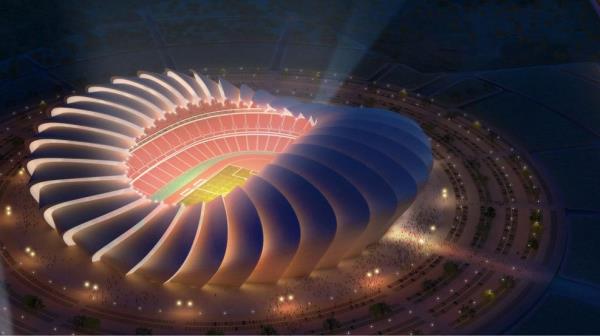 What all these projects have in common, big and small, is that they are financed by the Iraqi Ministry of Youth and Sport, which means with public money.
This leads to the automatic question whether this, right now, is an investment the country should be making. After all, aren't there worthier causes than building new sports stadiums for a country that just suffered a war?
Probably yes, though one has to bear in mind that Iraq hardly has any decent sports infrastructure at the moment. Stadiums are small, basic, and often crumbling, which includes the present Al-Shaab national stadium (see photo at the top).
The current upgrade will turn the stadium infrastructure of Iraq into one of the best of the Middle East, which will increase the attractiveness of the domestic league and make it a prime candidate to host more future international tournaments. The inherent potential the country has can therefore finally get fulfilled.
It also says something about the effectiveness of the Ministry of Youth and Sport, at least in this area, who have managed to simultaneously get this many large projects up and running. It has not only been words, but stadiums are actually getting built (with the caveat that they still have to get completed).
That said, whether this is worth an investment that is going to approach US$ 2 billion is another question, one that can only get answered in a decade or two.
Read original article at http://www.stadiumguide.com/the-iraqi-stadium-boom/